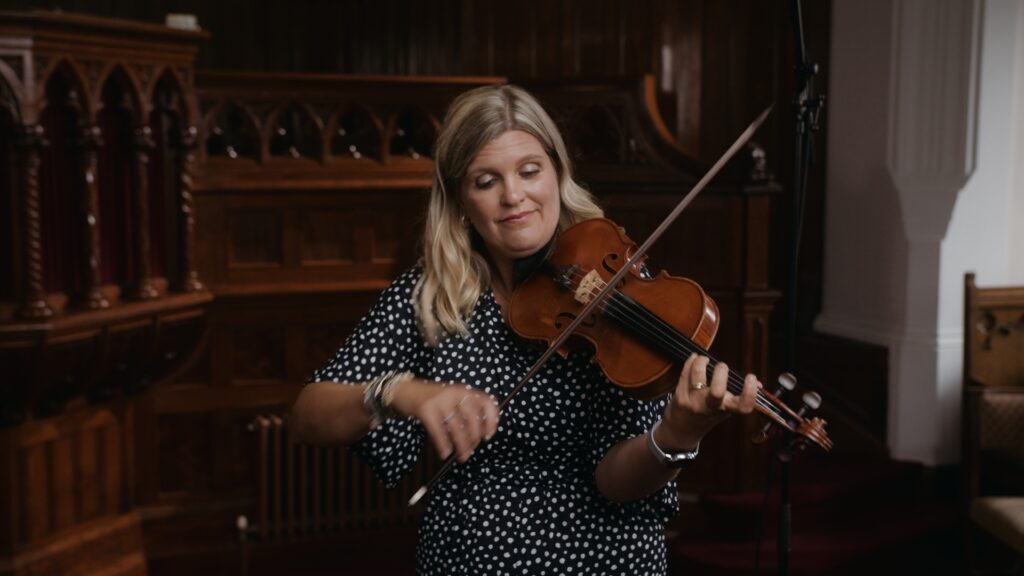 Experience

Rebekah has over 20 years teaching experience in Violin, Viola, Piano, Singing and Theory. Over the years she has seen pupils progress from absolute beginner to diploma/music college entrance on Violin, beginner to Grade 8 on Viola and Grades 1-5 in Piano, Singing and Theory. She follows the ABRSM and Trinity Syllabi and incorporates some of the Suzuki method for beginner Violin, although not a trained Suzuki teacher, she was brought up on the Suzuki method in her early years.

Up until March 2020, Rebekah taught music lessons from her private music studio at home and at one of Northern Ireland's top Grammar Schools, Ballymena Academy, where she built up a very strong string department and developed a multi award-winning String Orchestra.

When the COVID-19 restrictions forced the school closure, Rebekah turned to online music lessons and has seen remarkable results in the first round of remotely assessed online music examinations with Trinity College of Music. Greatly encouraged by the results of Skype and Zoom lessons, Rebekah looks forward to developing her online music school through private lessons, and her own bespoke online teaching resources.

The new ABRSM remotely assessed performance grades launching in Autumn 2020 brings into focus the importance of Musical Style, Interpretation and Performance. This is of special interest to Rebekah having studied Historical Music Performance Practice at the Royal College of Music.

Rebekah's extensive experience of both performing and teaching over the years has helped her acquire a unique set of skills aptly suitable for teaching these new performance grades.

For example, of huge importance to the student, is the understanding and ability to communicate the musical intentions of the composer. This requires an in-depth knowledge of different musical styles which Rebekah has acquired over the years, both as a professional baroque violinist performing to world-wide audiences and by also bringing popular classical music to her local community through leading and directing the Ballymena Chamber Orchestra.

She has extensive knowledge of programming many different types of concerts and events, offering a 'something for everyone' approach to music, from Baroque to Pop. The orchestra attracts audiences that have otherwise never been exposed to live classical music and its success is evidently down to how well the orchestra communicates the music to its audiences. One must not also forget that once the musical instructions and stylistic interpretations have been given, a hard work ethic must also be adopted for optimum success!
Past Pupil Profiles and Testimonies 
Festivals and Competitions 

Rebekah regularly enters a number of students for festivals around Northern Ireland. Many are prize winners and gain first, second and third places in solo and chamber music classes. Local regional festivals offer a great opportunity to improve performance skills and participate in sharing musical gifts with others. Listening and learning from others and participating in community music making brings the best out of everyone involved.
Auditions and Assessments 

Rebekah has extensive experience preparing pupils for all sorts of auditions and assessments. Pupils have gained places in the National Youth Orchestra of Ireland, The Ulster Youth Orchestra and the National Youth Orchestra of Great Britain. She has also prepared students for music college entrance, some of whom have also gained study scholarships. She regularly has pupils who gain full marks in GCSE music practical exams and also prepares students for the A-Level practical exams.
Chamber Music Coaching 

The Causeway String Quartet is an award-winning String Quartet that has studied under Rebekah's tutelage for many years. They have won first place in almost every festival they have entered and have also performed at many concerts and provided beautiful music at weddings.

They have been performing as a quartet for almost a decade and as a result, have developed a really special and uniquely blended musical sound together, as well as being very close friends!

Available for Weddings and Civic Ceremonies and Functions. Based in Northern Ireland, however willingly accept opportunities to travel further afield on request.